LEARNING THROUGH GAMEPLAY!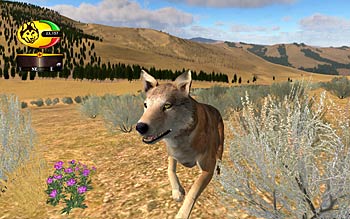 WolfQuest
— Try to survive as a wild wolf in Yellowstone National Park, playing alone or with friends in online multiplayer missions.

Eduweb specializes in playful learning experiences, from game-based learning to creative play and design interactives. We develop custom web-based and exhibit games, as well as games and augmented reality apps for
mobile devices
.
Creation, experimentation, exploration, imagination—play is central to so many kinds of learning. Over the past decade, we have made play a central goal for our learning interactives as well. Create a beautiful artwork or an exciting movie. Design a desert house or a rainforest beetle. Spend a day as a wild wolf or colonial apprentice. Our efforts are borne out by our recent research, funded by the National Science Foundation, which found that play value is more important than other factors such as gender and learning style in predicting children's responses to an online interactive. Play is motivating, absorbing and inspiring. We believe it's an essential ingredient for compelling learning experiences.
Games take "play" and wrap it in rules. Strangely, that only makes them more fun. Games engage the imagination, foster motivation, offer context, and provide scaffolding for effective learning. Digital technology lets us design games that recreate the rules of nature and society in a rich, contextual world for players to explore. As a recognized leader in the field of digital learning games for informal education, eduweb designs meaningful, enthralling games about the real world.